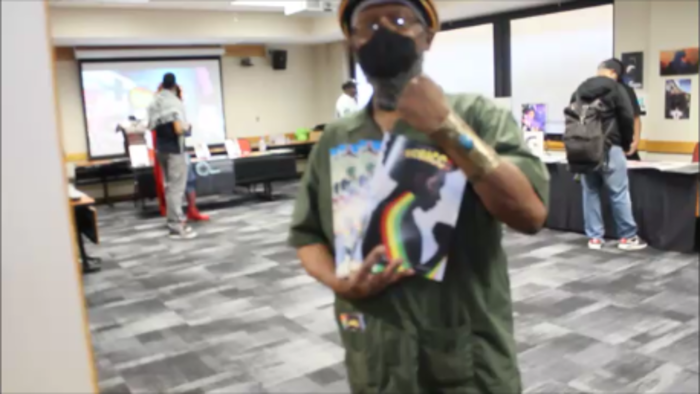 2023 East Coast Black Age of Comics Convention
Junious Ricardo Stanton
The East Coast Black Age of Comics Convention was held May 19-20, 2023 in Philadelphia at the Student and Alumni Center at Temple University. This was the organization's twenty-second annual convention. The convention is a year round education, literacy and arts project that brings together hundreds of comic book, graphic artists, illustrators, writers, story tellers, enthusiasts and entrepreneurs that showcases Black creativity and genius. ECBACC is a pioneer in the genre of Black action and sci-fi comic books. Long before the success of the Marvel Comics Black Panther comic book, Black artists, storytellers and self-publishers were creating their versions of action superheroes, Afro-futurism and sci-fi to an ever expanding consumer and fan base and ECBACC Inc was in the forefront of promoting and encouraging this art form and business model. These artists storytellers and publishers provided a way for Black and Brown people to see themselves in comic books and graphic novels as heroes, iconic characters in extremely imaginative scenarios and fantasies that rivaled the better known mainstream books like Marvel and DC. But unlike their mainstream counterparts ECBACC and the convention participants are inclusive, open and welcoming to all.
The convention is a free two day or often two and a half day event that is open to all ages and the public at large. The convention features an awards program, the annual Glyph Comics Awards which is the first of its kind in the country to recognize and honor Black comic books, writers, creators, artists, Web comics, graphic novels, giving awards for the best covers, best content, best male and female characters. The annual convention features vendors, games, workshops, panel discussions, children's activities, while at the same time promoting literacy, education and creativity. Workshops on cartooning, digital marketing, writing, illustration and panel discussion on images where held throughout the Saturday session.
Comic book and graphic novel publishers, artists, graphic designers, illustrators and writers come from around the country to attend the convention to exhibit their work, attend the workshops and participate in the panel discussions. Students also come to show their own art work, network and meet others who share their passion for the genre.
Yumy Odom is the founder of ECBACC and the co-convener of the convention. He has seen a steady growth in Black Comics and credits ECBACC as the prime inspiration for the genre. "We are at the center of all of this. This year we have about forty-five vendors here and about ten other guests are virtual. What you see today in Black comics, all of that stems from ECBACC, right here.
I call it the bandwagon effect but it is a good bandwagon. I started in nineteen eighty-six doing First World Comics then in nineteen eighty-eight I came here. I worked for about a decade working with artists then in two thousand two we had our first convention right here at Temple University.
We've been underground but we've connected people that they didn't know existed from all over to this genre. We are a micro convention but we've had mega impact. Anybody that is happening now came through ECBACC. We have influenced hundreds of artists, illustrators and storytellers over the years, even the ones who haven't come here. People have an idea, they come here or they call. We have about five conventions all around the country that have been spawned by ECBACC. People call me I give them information and they start conventions and all of them are different. Our emphasis is on independent Black creators although anyone can come here. All of the people here have their own comic books even the ones who started at DC and Marvel. Any time someone mentions Black comics they really have come from ECBACC" Stated Odom.
ECBACC operates year round. They hold exhibitions and sponsor events at libraries and they have a publishing company that recently produced their first book. It is a compilation of illustrated short stories, word games and puzzles. Their Website is
www.ecbacc.com
and you can contact Yumi Odom the president at 908 334-1793.
-30-
Posted By: Junious Stanton
Thursday, May 25th 2023 at 10:09AM
You can also
click here to view all posts by this author...