Clarence Maurice Mitchell Jr. (March 8, 1911 – March 18, 1984) was an American civil rights activist and was the chief lobbyist for the NAACP for nearly 30 years. He also served as a regional director for the organization.
Mitchell, nicknamed "the 101st U.S. Senator", waged a tireless campaign on Capitol Hill, helping to secure passage of civil rights legislation in the 1950s and 1960s: the Civil Rights Act of 1957, the Civil Rights Act of 1960, the Civil Rights Act of 1964, the Voting Rights Act of 1965 and the Fair Housing Act (Title VIII of the Civil Rights Act of 1968)
On June 9, 1980, he was presented with the "Presidential Medal of Freedom" by 39th President Jimmy Carter.
READ MORE: Clarence Mitchell Jr.
https://en.wikipedia.org/wiki/Clarence_Mit...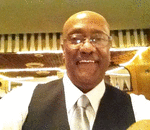 Posted By: Dea. Ron Gray Sr.
Friday, June 9th 2023 at 5:11PM
You can also
click here to view all posts by this author...