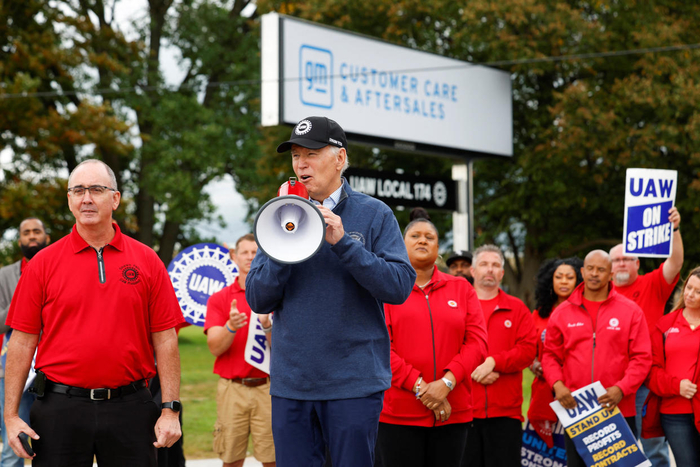 For Immediate Release From AOL!
Biden joins picket line with UAW workers in Michigan
President Biden on Tuesday joined the picket line alongside United Auto Workers union members in Michigan, taking up a megaphone as he encouraged workers holding the line.
The president urged workers to "stick with it," saying they deserve a "significant" raise and other benefits as the strike has stretched on for 12 days.
"The fact of the matter is that you guys, the UAW, you saved the auto industry back in 2008 and before," the president said in brief remarks outside a General Motors distribution center near Detroit. "Made a lot of sacrifices. Gave up a lot and companies were in trouble. But now they're doing incredibly well. And guess what? You should be doing incredibly well, too."
Mr. Biden shook hands with picketers, and put his arm around a woman who appeared to wipe tears from her eyes.
"You deserve what you've earned, and you've earned a hell of a lot more than you're getting paid now," he said.
It's an unusual move for a sitting president to make such a visible intervention for striking workers, unprecedented in modern presidential history.
White House press secretary Karine Jean-Pierre insists the administration is "not going to get into negotiations," and wouldn't say whether the White House supports UAW workers' current proposal. The Biden administration had said it would send acting Labor Secretary Julie Su and top White House adviser Gene Sperling to help with negotiations, but then decided last week to keep the two in Washington. Su and Sperling "have been in regular touch for the past several weeks with all parties," Jean-Pierre said.
U.S. President Joe Biden greets people as he joins striking members of the United Auto Workers (UAW) on the picket line outside the GM's Willow Run Distribution Center, in Bellville, Wayne County, Michigan,
Mr. Biden last week announced he would join the picket line, shortly after former President Trump announced he would visit Detroit on Wednesday and skip Wednesday's Republican presidential debate in California. Trump has accused Mr. Biden of only visiting because Trump said he would.
Jean-Pierre said the president's presence is supposed to send the message that "we support the auto workers."
"To be very clear, he is standing with them to make sure that they get a fair share," Jean-Pierre said during Monday's press briefing.
The UAW, which began its walkout on Sept. 15, has expanded its strike against the Big Three automakers to include General Motors and Chrysler parent company Stellantis distribution centers across 20 states. Fewer than 20,000 UAW members are striking, out of the UAW's nearly 150,000 members.
Read the full article HERE!:
https://www.aol.com/biden-joins-picket-lin...
********
Auto Giants Refusing Union Demands Paid Just 1% in Federal Taxes on $42 Billion in Profits: Analysis
"The tax system is rigged to benefit multinational corporations over the workers who keep them running."
Despite reaping tens of billions of dollars in profits between them over the past five years, General Motors and Ford paid an average combined tax rate of just 1% on total pre-tax income, an analysis published Tuesday by economic justice advocates revealed—as the auto giants claimed they cannot afford striking workers' demands for better pay.
The Americans for Tax Fairness (ATF) analysis—which posits that "the tax system is rigged to benefit multinational corporations over the workers who keep them running"— notes that over the past five years, GM and Ford made a total of $34 billion and $8 billion respectively, but paid an effective federal tax rate of only 1.3% for GM and -0.2% for Ford.
"While some of those tax savings have found their way into rapidly rising compensation packages for the firms' top executives and board members, wages of rank-and-file workers have lagged," the report states. "Average executive pay at GM and Ford grew by 32% over the past five years, while median autoworker pay grew by just 8.8% over the same period, widening the executive-to-worker pay gap to 183-to-1."
"Over that same period, GM and Ford paid out a combined total of $14 billion in dividends (34 times more than they paid in taxes), spent $3.6 billion on stock buybacks (nine times more than they paid in taxes), and lavished $614 million on top company executives (50% more than they paid in taxes)," the publication continues.
The analysis comes five days into a "stand-up strike" by around 13,000 United Auto Workers (UAW) members at GM, Ford, and Stellantis plants. The workers are seeking better pay and benefits.
"General Motors and Ford are refusing to meet UAW's demands, claiming that what workers are asking for is unreasonable," the report states. "An Americans for Tax Fairness analysis of GM and Ford's most recent [Securities and Exchange Commission] filings finds that what is truly unreasonable is how the auto giants get away with paying practically nothing in federal taxes while further enriching their top executives with huge pay packages and their shareholders with dividend payments and stock buybacks."
Read the full article HERE!:
https://www.commondreams.org/news/corporat...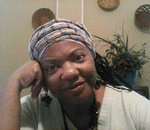 Posted By: agnes levine
Tuesday, September 26th 2023 at 2:50PM
You can also
click here to view all posts by this author...