The Bankrupt Legacy of Reaganomics
If events of the past week have demonstrated anything, it is that the economic ideas and practices first popularized by Ronald Reagan are utterly bankrupt. At present, deregulation is receiving the most attention, but it is one element in the Republican economic package that includes tax breaks for corporations and the wealthy, the destruction of the social welfare state through privatization or financial starvation, and the discrediting or elimination of all institutions that could offer alternative sources of power and ideas. It bears remembering at this point that central to the Republicans' agenda of the last thirty years has been the destruction of the protections and safety net provided by the New Deal and subsequent liberal administrations.
What have been the results? Tax breaks for the wealthy have simply given money to the wealthy. Income inequality (especially when measured in after-tax income) has increased dramatically. In short, the poor have gotten poorer, the rich have gotten richer, and the middle has increasingly been put at risk. Loans are now all but impossible to secure (even for good credit risks), health care costs have skyrocketed, the financial foundations for Social Security and Medicare have eroded badly as federal deficits have skyrocketed, college tuitions have gone through the roof, real estate values have plummeted, hard-working Americans have lost pension funds, unemployment is growing, and, finally, our basic financial institutions have been placed at risk by the culture of greed enabled by conservatives for too long. The legacy of deregulation and supply side economics, therefore, has been the most critical economic crisis in this country since the Great Depression.
Now, American voters have been asked to support an exorbitantly expensive (at least $700 billion!) bailout for socially and economically irresponsible private businesses without any significant public debate. The proposal allows for no review by Congress or the courts of decisions made by the Secretary of the Treasury in using this money. Indeed, the money would immediately be turned over to a thoroughly discredited administration. HAVE WE LOST OUR MINDS?!! Such a delegation of unchecked authority to the executive branch is utterly irresponsible.
We are told that this is an extraordinary and temporary fix for an unusual confluence of problems. Translation: after this is over, it will be back to business as usual. Moreover, Bush also claims that this is no time to focus on the origins of this crisis. Translation: Don't ask whether this crisis occurred because a bankrupt economic philosophy and politics has led us to near ruin. Finally, he says that this is an issue beyond partisanship and then criticizes the Democrats when they make suggestions for improving the plan. Translation: Democrats, sit down and shut up!
President Bush explained the unbelievable number of corporate scandals of the last eight years (Enron, Global Crossing, WorldCom, Tyco, Adelphia, Arthur Andersen, Qwest, and many, many others) as a problem of "bad apples" and not a systemic failure. As a result, the only meaningful reform supported by the Republicans then in charge of Congress and the presidency was a new law stiffening penalties for inaccurate and deceptive financial statements by corporations. Asleep at the helm, the current administration thought the way to cure our economic ills was one prosecution at a time and then only when the evidence of wrongdoing was so overwhelming it could not be denied.
Despite the need for a more profound explanation and solution to the deeply rooted corruption of our economy and our politics, the administration has proposed a bailout that is designed to rescue, not transform, our way of doing business. Whether the rescue will be followed by systemic reform is an open and highly political question. Here the contrast between the two candidates for the presidency could not be more stark. John McCain has supported deregulation consistently for years and has used the same arguments to justify it favored by Republicans since Reagan. Barack Obama, by contrast, favors strengthened regulation to protect American workers, consumers, and taxpayers. The bailout, it must be remembered, requires that taxpayers pay the costs of a crisis that originated in corporate wrongdoing enabled by laissez-faire government policies. As several commentators have noted, we now have a system that privatizes profits while socializing losses. Talk about your mixed economy.
The differences do not end there. Ultimately, Republicans believe that businessmen create value and social wellbeing while Democrats endorse the principle that workers make critical contributions to economy and society and should be empowered and rewarded accordingly. Most importantly, they support strengthening the labor movement through the actual enforcement of the Wagner Act, which protects workers' right to organize and join a union. This will not only provide workers with a means to protect themselves from arbitrary management policies and to secure better wages, it will also create a form of countervailing power against the corporations. This we need desperately. It bears noting that African Americans have worked to form and support unions wherever they could since the passage of the 1964 Civil Rights Act. This is why many employers moving South to escape unions tried to go to areas where the black population was low.
The failure to enforce the Wagner Act is part of a larger strategy of conservative lawbreaking that has dominated conservative administrations since 1980. In recent years, for example, the Bush administration has refused to enforce environmental laws, forcing the federal courts to condemn its lawbreaking and order administration officials to honor their constitutional obligation to enforce the laws. The consequences of this neglect can be lethal, particularly for the poorer Americans who have traded their health for jobs in dangerous industries. Moreover, the location of toxic workplaces in minority neighborhoods has been systematic also. Environmental policies are a civil rights issue.
Similarly, conservatives have refused to enforce civil rights laws and, under Reagan, tried to weaken them in various ways. (The Democratic Congress stood in their way in the 1980s). They justify this by claiming that civil rights enforcement hampers business efficiency. In fact, hiring, promoting, and paying on the basis of merit improves efficiency by ensuring that workers develop their skills and that the best workers get the best jobs. Historically, American employers were willing to sacrifice efficiency to prejudice. Moreover, the U.S. Chamber of Commerce and the National Association of Manufacturers opposed the passage of Title VII of the 1964 CRA and have consistently opposed its effective enforcement.
I fervently hope that the Democrats hold firm on more money for "Main Street" in this bailout proposal and, in particular, for the bill to require accountability not only for the corporations that benefit but also accountability in the federal use of this EXORBITANT amount of money. It is no time for them to be supine.
Karen Anderson PhD
University of Arizona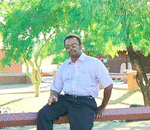 Posted By: George Puckett
Monday, September 22nd 2008 at 10:52AM
You can also
click here to view all posts by this author...