Props to my sister - @BlackPearlCreat (twitter name) is changing the game this holiday season. She listens and ACTS. After some of us discussed the "layaway ads heard on Steve Harvey", she hit us off with a twitter about her very own layaway plan for her crochet creations at
http://www.blackpearlstyle.com.
This holiday season, shoppers are going to be very particular where and how they spend their hard earned money. If you have an online product, you can easily offer gift certificates and layaway with your Paypal account. It's all in how you market your options.
Offer layaway with the "subscription plan" or leave the amount blank letting the customer make reocurring payments. Send the product only when final payment amount has been reached the desired amount of product. In the mean time, send a courtesy email letting the customer know how much they have banked giving them current purchase options if they would like to "cash out" or "keep saving." Don't forget to offer a cancellation and refund policy.
If you're in business to do business - just do it.
This business tip is free. Perhaps you'd like to define your strategy. Let us help. Layaway your consultation with Sistributions - ask us how!
http://www.DryerBuzz.com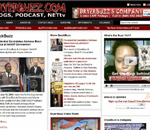 Posted By: yalanda lattimore-DryerBuzz.com
Wednesday, October 15th 2008 at 1:46PM
You can also
click here to view all posts by this author...