Whenever I read through the blogs, I try to leave some type of comment, even if to just say thanks for posting. I notice some of the blogs have high numbers and no comments. Let people know if you appreciated the post and can use the information or just that you stopped by.
Many of the post should spark valid conversation. Sometimes I notice rather than response to a post, persons will create a related blog rather than reply.
I enjoy reading the blogs and will do better myself to let people know I appreciate their posts. Will also try to join in more to the conversations. let's all do this.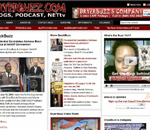 Posted By: yalanda lattimore-DryerBuzz.com
Monday, October 20th 2008 at 5:59PM
You can also
click here to view all posts by this author...