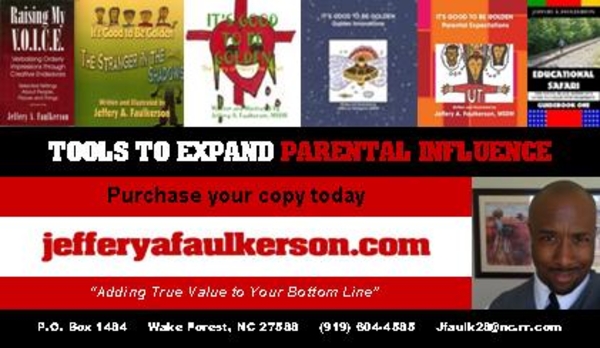 I am an entrepreneur, someone who makes book titles available to domestic and international consumers. When I decided to become an entrepreneur, I understood that I would have to generate broad interest for my book titles. Therefore, I followed the experts' advice, initially sharing my completed book titles with family, friends and relatives. My family, friends and relatives came through for me, providing the seed money that I needed to keep my writing ministry in business. I then turned my attention to friends in my local community and on networking sites. I even established my own website,
www.jefferyafaulkerson.com,
to make it easier for consumers to access my storefronts, and learn more about Jeffery A. Faulkerson the man. Moreover, I hosted an Internet talk radio show ("FIRM…but fair" with Jeffery A. Faulkerson) so I could have live interactive discussions with featured guests and audience members.
What most people don't understand, though, is I didn't decide to become an entrepreneur to make boat-loads of cash. I am genuinely motivated by a desire to add true value to my consumers' bottom line objectives. Since my targeted consumers are parents, my products are tailor-made for them. As the parent of a six-year-old boy, I know that the bottom line for most parents is that their children grow up to be successful.
But what does this success look like? I believe it has everything to do with the type of relationship one has with our Lord and Savior Jesus Christ. Thus, when I speak of adding true value to your bottom line, I'm letting you know that I'm committed to sharing with you and your children the spiritual fruit that God is allowing me to bear. Of course that doesn't mean I have all the answers. It just means I am committed to having the Holy Bible close at hand when producing new book titles and perfecting old ones. It also means I am relying on God to give me the wisdom I need to conceive, develop and publish invaluable products.
Yes, I occasionally get paid to write résumés and proposals for clients, but most of my time is spent conceiving, developing and publishing products (i.e., picture books for children, guide books for adolescents) that these parents can use as tools to sow seeds of independence and responsibility in their children. Couple this with my facilitation of parent workshops and seminars, and you have a man trying to implement a system that encourages parents to exercise the kind of influence that positively impacts children's thoughts, feelings and behaviors.
If you haven't done so already, I invite you to support my efforts by purchasing one or more of my book titles (priced at $15 or less), or by enrolling and participating in a current or scheduled parenting seminar. Your purchase of my book titles keeps my writing ministry viable, allowing it to stay in business in the short- and long-term. But, more importantly, it affords me with the time I need to develop new titles and perfect old ones. Your purchase also enables me to visit schools, churches, libraries and community centers, where I do free readings from one or more of my book titles to elementary-age children. Once business picks up, I hope to give away a set amount of free copies of the books I read.
If you would like to support my efforts through the purchase of one of more of my book titles, please visit
www.jefferyafaulkerson.com
(PRODUCT tab) to access links to my storefronts. Feel free to call me at (919) 604-4585 if you have questions, or would like to learn more about receiving autographed copies of your purchased books.
Thank you for keeping me in your thoughts and prayers. Be blessed, and continue to be a blessing.
Jeffery A. Faulkerson, MSSW
www.jefferyafaulkerson.com
Posted By: J. A. Faulkerson
Tuesday, March 2nd 2010 at 11:39AM
You can also
click here to view all posts by this author...