Yes, it is.
Today's forecast: WARM. Kids are wearing t-shirts and jeans. Bowling is over. My flowers are blooming. I planted seeds back in March and the flowers are poking their heads out. No snow. Not wearing a heavy winter coat. The end-of-the school year is nearly over.
The only thing I really hate about this time of year: allergy season and the end-of-the school year activities: concerts, recitals, lots of paperwork, conflicting girls's sports schedules, and cleaning up the yard.
I'm ahead of schedule this year. I weeded my house of unnecessary toys, clothes and paper. My lawn furniture on the porch is out. I bought a bike for $35 dollars for my daughter's 11th birthday last week. I couldn't let that go. My other child is registered for Creation Camp. And I actually wrote my first play and entered it into a local play writing competition. I had no plans to do that. A friend of a friend bought my first book and put the idea into my head. I thought she was crazy. However, she "educated me " about writing a play.
Lais explained that since I wrote novels, writing a play would be easier for me. It involves mostly dialogue and limited directions and descriptions. Since I paint pictures in my novel writing;, Lais joked that the task would be easy for me. The dialog just has to sound like dialogue. She made me promise to try and I told I would. I didn't think about it for a while.
Until, I got an e-mail about Mood Maker Books Playwriting contest. They were looking for one act plays under 30 minutes and I had five months to submit something. So I took on the challenge and wrote a play about moms. Something I should no about, huh? It is called Generic Moms.Com. I didn't think I could, but I finished it with three days to spare. Editing and rewriting. Then I sent it off.
I won't be upset if it doesn't get selected to be staged. I have said this before and will say it again. I don't consider myself a poet or a playwright. Like so many of us out there, I limited myself to what I thought I could do. There was someone out there who saw more for me and dreamed BIGGER than I did.
They are selecting four plays. Maybe, I'll be one of them. Maybe, I won't. It's a beautiful day in my Nubian neighborhood because I'm rethinking my DREAM. I'm going to stop putting myself in boxes. I'm happy I tried. Now, I'll seem what happens. Wish me luck.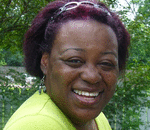 Posted By: Marsha Jones
Tuesday, May 10th 2011 at 10:54AM
You can also
click here to view all posts by this author...