Sorry about this. I'm not a BIG Romeo fan, but he could have easily made it to the Final Four...if he had a bigger fan base. It's one of the things that I hate about this show. The real dancers in the group: Hines Ward, Chelsea (from Disney) and Ralph Macchio. Kirstie Alley shouldn't be there, but that's about fan base.
I'm giving Romeo MAJOR PROPS because of what he accomplished considering who his father is Master P. Lawd, help me. Master P appeared on the show in maybe Season 3. I try desperately to forget his appearance. Master P never wore any of the standard ballroom attire. He got the lowest scores on Dancing With The Stars (DWTS) history. He left after his third appearance. The rapper never took his appearance or the task seriously and embarrassed every person of color in America. Master P proved that we all don't have rhythm.
What a legacy for Romeo to walk into. Romeo shattered it and thensome. I'm happy to have watched him transform into a fine ballroom dancer. He took the task seriously and just displayed a gift and class, I wasn't expecting. The Vienese Waltz? OMG. The judges were smitten with that. So was I. The man with the small fan base was knocking off the competition one by one.
Romeo, Romeo, where art thou? Unfortunately, he got cut last week and won't be in the Final Four (of dance). He also showed that like father , like son isn't always the case.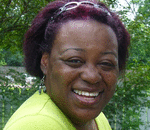 Posted By: Marsha Jones
Monday, May 16th 2011 at 2:49PM
You can also
click here to view all posts by this author...