Enough already. I could care less. When does cheating on your spouse become front page news? Cause if that were the case, adultery, infidelity, creeping -- whatever you want to call it -- would fill our daily pages papers and then some. We could be up to three editions daily.
There is so much news that NEVER gets covered, but this story is on 24-7. I'm not interested. This should be a private family matter between Arnold and Maria. It's not. It's turned into a three-ring circus. The race to identify the house keeper. To see if Arnold has had more affairs. Women coming forward. Who is paying for the maid's house? Was tax payer money used? I have a headache just thinking about it.
Maria's has been humiliated. Then there is that Kennedy curse. Arnold's son has changed his last name to Shriver. Their daughter has tweeted asking for privacy. And Arnold's "love child" just found out who his real father is. He's been lied to his ENTIRE life. Arnold, on the other hand, is keeping a "low" profile.
I guess people are interested in this story because it's a train wreck we never saw coming. He lied about his secret life for more than 10 years and he did this all under Maria's nose. I'm just tired of these stories. Families torn apart. Innocent children being hurt. Arnold could have avoided all of this if he had kept his marriage vows. Now, we all know he didn't.
The truth always comes out Arnold. You were probably too arrogant to see it. Maria's not trying to work anything out. They'll get a divorce. Now, I have to put up with that media coverage. Lawd. Lawd. Lawd.
We need to remember that even though they are celebrities: they are people, too. Leading off with today's top story about Arnold's situation is wrong. It doesn't affect the whole world. It's entertainment filler. This type of stuff is a private family matter and should be treated as such.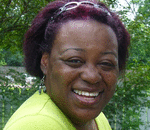 Posted By: Marsha Jones
Thursday, May 26th 2011 at 1:18AM
You can also
click here to view all posts by this author...