THE FALL
Day Nine:
Wrote in a flight of leaving,
walked
among concreted leaves that
didn't move....
And saw people coming and going
from mountains where trees of
Life stay young.
I thought I saw a visitor, but I
could have imagined Him; because of . . .
a reason I could not understand.
So, I shifted and to a Fall into poetry. . .
and left in the sailing flight of leaves.
-MIISRAEL
WINNIESPOETRY LEAVESOF OCTOBEROct2017Copyrighted.
"For though I be free from all men,
yet have I made myself servant unto all,
that I might gain the more."
-1 Corinthians KJV
THE FALL
presented by THE WORD with MIISRAEL
OCTOBER 2017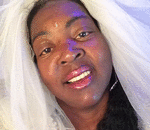 Posted By: MIISRAEL Bride
Monday, October 9th 2017 at 11:17AM
You can also
click here to view all posts by this author...