Ebony is an activist turned candidate who will bring fresh perspectives and ideas to the table. Pittsburgh born and bred! Where she spent most of her childhood in Homewood with her parents and nine children. Her mother Victoria was a north side native and small business owner. Her father Irvin Taylor was one half of the Dancin' Demons! A native of the Hill District and a member of Pittsburgh's legendary jazz community. They always stressed the importance of love for family and education.
https://ebony4d19.org/
As a representative for your district there will be many important issues that she will work to advance, but education will be a priority. As a proud graduate of Pittsburgh Public Schools and Cheyney University which is a member of the Pennsylvania State System of Higher Learning she understands first-hand how public education can impact you. She will work tirelessly to protect funding, public schools, and also refine education. Including making sure that the textbooks and curriculum used are true to fact, fixing the broken student loan system, and securing funds for early childhood development programs.
.https://ebony4d19.org/
She worked in an Early Head Start Program servicing children and families from the Hill District. She loves helping her community, and continues this social service work with families all over the Pittsburgh region even now. She currently holds a life and health insurance license in the state of Pennsylvania, and has used it professionally and as a volunteer to increase efforts in the health care for all movement. Ebony joined forces with Organizing for America and Get Covered America to educate and enroll people in health insurance made possible through Affordable Care Act. She keeps individuals including seniors and small businesses informed about the changes and resources for public and private health insurance.
https://ebony4d19.org/
She understands the importance of political involvement and how it impacts our lives every day. She worked with the Obama campaign as field manager for Working America AFL-CIO. She volunteered for many other candidates campaigns such as gubernatorial, mayorial, county, city council, and school board. She also worked with groups such as ACORN and MoveOn by organizing to put public pressure on politicians and canvassing for voter education.
She is a community activist who wants to take that energy and make a greater impact! She has always been there! From mentoring our children through tennis and as Secretary on the committee for Cheyney University's Alumni Association to participating in neighborhood clean-ups and volunteering at many other capacities.
She has been residing on the north side of Pittsburgh for the past 13 years. Ebony currently resides in the Mexican War Streets with her fiancé Edward. She is an avid sports fan and bleeds black and gold!
To support Ebony please click the link below
https://ebony4d19.org/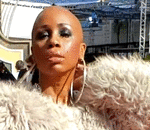 Posted By: Tanisha LaVerne Grant
Tuesday, March 27th 2018 at 4:30PM
You can also
click here to view all posts by this author...