ENTERTAINMENT CORRESPONDENT TANISHA LAVERNE GRANT WAS HONORED BY BLACK WOMEN IN MEDIA ON MARCH 29, 2018 IN NEW YORK CITY
For bringing in-depth interviews of Hollywood Back to the African American Communities!
Who single-handedly gets the exclusive?  Tanisha LaVerne Grant,
A widely respected independent entertainment journalist who curates, owns, contributes and distributes her content to various multi media outlets and companies is known as a "Hollywood Insider!" Smart, savy, and sophisticated in her interview style and appearance Tanisha LaVerne Grant appeals to men and women across all ages and demographics making her one of the industry's leading go to personalities for all things pop culture!  
On March 29, 2018, Tanisha LaVerne Grant joined a prestigious group of African American women who will be recognized by BLACK WOMEN IN MEDIA for providing the African-American communities with news, culture, politics, and entertainment during the ANNUAL BLACK WOMEN IN MEDIA AWARDS & CONFERENCE.
http://eventsonawhim.com/bwimawards2018/
Black Women in Media a subsidiary organization of BLACK STREET, was created to provide a platform for black women in media and entertainment. Black women are dominating fields in Communications,  Journalism, Entertainment, Television, and Radio, and yet there continues to be a lack of representation. BWIM provides a platform to recognize those who have paved the way, empower those who are dominating in their fields, and inspire future media mavens. BWIM aims to encourage women to break past barriers and prejudices and continue spreading their BLACK GIRL MAGIC! To better serve the community, BWIM is launching a mentorship opportunity, a series of digital talk shows, and its ANNUAL awards conference and ceremony.
With her most recent of coverage in the competitive space of Hollywood's Award Season TANISHA LAVERNE GRANT was front and center covering from the red carpets of the 49TH ANNUAL NAACP IMAGE AWARDS, THE 3RD ANNUAL ABFF HONORS, UPTOWN MAGAZINE'S PRE-OSCAR GALA,  and the highly coveted 90th ACADEMY AWARDS. 
http://blackinamerica.com/content/333134/entertainment-correspondent-tanisha-laverne-grant-gives-post-oscar-recap-on-arise360
http://blackinamerica.com/content/332687/tanisha-laverne-grant-interviews-black-hollywood-at-abff-honors
http://blackinamerica.com/content/332691/oscar-nominated-director-john-singleton-talks-snowfall-with-tanisha-laverne-grant-at-abff-honors
http://blackinamerica.com/content/332720/black-panther-costume-designer-ruth-carter-hails-the-work-of-philadelphia-designer-ann-luchade-at-abff-honors
http://blackinamerica.com/content/331361/red-carpet-coverage-of-the-49th-annual-naacp-image-awards-with-tanisha-laverne-grant
BLACK WOMEN IN MEDIA is honored to recognize Tanisha Laverne Grant for her undeniable skill and talent and making her a part of the BWIM family.  Her coverage with syndicated Black in America is absolutely remarkable and have made her force in the industry. Her  exclusive coverage of red carpet award shows, award show press rooms, film festivals, private screenings, press junkets, and film premieres,  have set the stage for her to interview some of the most prolific icons, game changers, disruptors, and thought leaders in film, fashion, music and politics, with a roster of luminaries including but not limited to Chadwick Boseman, Sterling K. Brown, Lupita Nyongo, Oprah Winfrey,  fellow BWIM HONOREE Cathy Hughes, Debra Lee, Debra Martin Chase, Sherry Lansing, Van Jones, Angela Bassett, Ruth Carter,  Damson Idris, Congresswoman Maxine Waters, Raoul Peck, Yann Arthus Bertrand, Melvin Van Peebles, Whoopi Goldberg, Forest Whitaker, KD Lang, Cicely Tyson, Patti LaBelle, Lupita Nyongo, Kevin Hart, Misty Copeland, Issa Rae, Kathleen Cleaver, Gabrielle Union, Kerry Washington, Tamron Hall, Gayle King, Kofi Siriboe,Spike Lee, Mary J.Blige, Mara Brock Akil, Yara Shahidi, Laurence Fishburne, Aja Naomi, Swizz Beatz, Teyona Taylor, Luke James, John Singleton, Malcolm D. Lee and many more.  
Follow Entertainment Correspondent Tanisha Laverne Grant for exciting and in-depth celebrity interviews at blackinamerica.com, hbcuconnect.com, www.nycityblack.com
www.lablackpost.com and
Arise360.  You can also Follow Tanisha Laverne Grant on social media: Twitter- @tanisha_grant, Facebook, Instagram, YouTube, and IMBD @tanishalavernegrant link to her host reel, video coverage, and her IMDB page.
For more information or inquires on BLACK WOMEN IN MEDIA please send inquiries to info@blackwomeninmedia.com  
Follow BLACK WOMEN IN MEDIA at
www.blackwomeninmedia.com. 
and @bwim on all social media outlets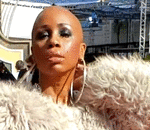 Posted By: Tanisha LaVerne Grant
Friday, April 6th 2018 at 1:44PM
You can also
click here to view all posts by this author...