Since I know that Black Americans are a NEW race of people and Malcolm X did not know doesnít it stand to reason that I am more intelligent than Elijah Muhammad, Malcolm X and Louis Farrakhan could ever be? Of course! There are no recorders or evidence of the Black American race existed anywhere in the world before plantation slavery started in this country in the 1600ís. White America is the birth place of the Black American race!
Malcolm X had not the knowledge and intelligence that prophets a racially different and since prophets are racially different Malcolm X cannot line up with the Arabian Prophet Mohammed and the Islamic religion because Malcolm X is not an Arabian man and we see that prophets and their people must racially match.
Since I am a Black American man my prophet must be a Black American man and I know that my religion must also be a Black American religion since prophets are racially different religions is racially different as well.
Only one source can the Black American race get supreme divine spiritual knowledge wisdom and understanding and that source is only from me, Christ Harry Godís first anointed prophet to the Black American race.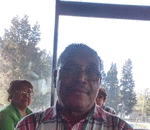 Posted By: Harry Watley
Thursday, May 17th 2018 at 12:20AM
You can also
click here to view all posts by this author...