What is a people spiritual foundation? Every Peopleís spiritual foundation is their anointed prophet, religion and religious book. For instance, the Saudi Arabian peopleís spiritual foundation is Prophet Mustafa Mohammed, Islam and the Holy Quran. No other race of people can use the spiritual foundation of the Arabian people and expect to get the attention of God are spiritually ignorant people. Without a prophet no race would or could get any benefits or help from God.
Black Americaís spiritual foundation are Prophet/Christ Harry, our religion name LIFE and our spiritual book yet to be written.
How does a race of people first come by their spiritual foundation?
The people (Black Americans) must first reach out to God for help from a long period of suffering at the hands of another people. It took the Children of Israel 430 years reaching out to God before God responded by anointed Prophet Moses. It took Black Americans over 500 years reaching out to the same God for help before God responded by anointing our first prophet, Christ Harry!
How we know that Christ Harry represents Black Americaís spiritual foundation and not Dr. King, Elijah Mohammed, Malcolm X and Louis Farrakhan is because Christ Harry came with the three necessary things; an anointed prophet which Harry is, a religion (LIFE) and a religious book yet to be written. All religious books records the time and event of the prophet that the future generations of that people can look in their religious book and see how God came and help their ancestors out of suffering by the hands of another people.
What Dr. King had was the Jewish White Prophet Jesus who belongs to the European Gentiles and Dr. Kingís religion was Christianity which was the religion of the European Gentiles and Dr. King religious book was the White manís Christian Bible the King James Version.
What Elijah Muhammad had was kind of complicated and extremely ignorant. Elijah had an Arabian born man named Farad Muhammad Elijah personally believed was God in the flesh. Then Elijah had the Arabian peopleís religion of Islam and lastly the Arabian peopleís Holy Quran.
I, Christ Harry am the first and only true leader of the Black American race! Black American Muslims and Christians are going to come to follow me because all those that believe in what I say and follow me will be those that will be in our country with me!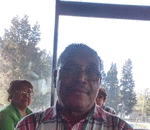 Posted By: Harry Watley
Thursday, May 17th 2018 at 11:15AM
You can also
click here to view all posts by this author...