Firstly, let me say what a divine revelation is, okay. A revelation is something that had never been realized add divinity to it means the revelation is brand-new that no one else but the first prophet would be given it to prove he is a genuine prophet anointed by the same God that anointed the Jewish White Jesus.
My first revelation was that prophets are racially different from each other because God created many different races of people. This revelation is absolutely true and if we Black Americans comply with this revelation it would mean a complete change in the way we worship and believe in God because the Jewish White Jesus can no longer be you all Lord and Savior, and my right!
My second revelation was that Black Americans descendents of plantation slaves are a new race of people! I made it clear that people exiting those slave ships from Africa were 100% African people, but when these Africans were screwed by the White slave masters for 300 years anyone with a low IQ would conclude that after 300 years of the White slave masters breeding themselves with their slaves the slaves would naturally and biologically become a different race from African and Caucasian they would be scientifically classified as a new race of people.
If my second revelation is accepted it would confirm that our ties to the White manís Christian religion is false and our ties to the Arabian peopleís Islamic religion is also false because of two reasons; firstly Black Americans are racially different from the White people who the Christian religion firmly belongs to and we are racially different from the Arabian people to have their Islamic religion as well, we are ignorant and stupid if we canít understand what Iím saying because what Iím saying is very simple.
My third revelation was that the biblical Adam and Eve were a Jewish couple and not the first to human beings that God created.
God communicated to me that all the different races were created at the same time in their own country. Chinese people were created in the country of China. Japanese people were created in the country of Japan. You get the picture?
The only race of people that God did not create is the Black American race descendents of plantation slaves and for that reason is why Black Americans are without out own country.
Black Americans were made by the White American slave masters when they bred themselves with the first wave of their African slaves and continued to breed with the same slaves what 300 years until Pres. Abraham Lincoln outlawed plantation slavery, but by that time the original African slaves with the mixture of the White American slave mastersí DNA naturally made a new race of people in 300 years known today as Black Americans descendents of plantation slaves directly or indirectly.
I, Christ Harry am Black Americaís first genuinely anointed prophet by the same God that anointed Moses, Jesus and Mohammed!
My prophecy is that Black Americans will become a nation for the first time in our existence and for that to happen Black Americans must and will come into our own country.
Our country will be from the northern borders of North Carolina into the Gulf of Mexico and from the middle of the Mississippi River into the Atlantic Ocean!
If you notice our country is combined of seven slave states where Black Americans were bred into existence by the White American slave masters. God could not have been more gracious to us to give us as our country where we were born!
What say you!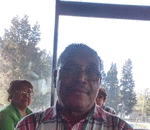 Posted By: Harry Watley
Wednesday, June 13th 2018 at 8:05PM
You can also
click here to view all posts by this author...