Why is it that I, Christ Harry am the only one on this site that speaks about permanent solutions while the rest of you offer no solution but talks in circles and blogs about subjects irrelevant to Black Americaís present issues like the ongoing dispute between the NFL players and (Pres. Trump/White people)!
The only permanent solution to the confrontational relationship between Black Americans and White Americans is that Black Americans must become and will become in my lifetime a nation and to be a nation Black Americans must have our own country; the territory from the northern borders of North Carolina into the Gulf of Mexico and from the middle of the Mississippi River into the Atlantic Ocean will become Black America descendent of plantation slavesí country!
I know what is troubling you all is that you all believe that my vision/concept is impossible to happen, but before you would consider whether it is impossible to happen you should first consider whether it is solution that would permanently resolve hundreds of years of confrontation between the old slave masters and present day Black Americans descendents of plantation slaves.
What say you!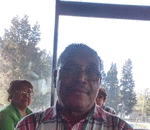 Posted By: Harry Watley
Friday, August 10th 2018 at 1:56PM
You can also
click here to view all posts by this author...