Iíll run a couple of tests on my concept that science and logic is the proof of truth. Without science and logic there is no truth!
What is truth? Truth is when something conform to reality and reality is how God created this universe/world we live in function properly.
I claim that my first revelation of three revelations from God is that prophets are racially different. Letís see if my first revelation has science and logic, and if it does then my first revelation is true. The science in the revelation that prophets are racially different is because humanity is racially different; that is humanity is not one race, humanity is many different races of people created by ONE GOD.
And here is the logic part. Of course, all the racially different prophets we know of came from a specific race of people that is different from other races and that is why prophets are racially different.
Science and logic confirms that I am Black Americaís first genuinely anointed prophet of Black Americans descendents of plantation slaves directly and indirectly by the same God that anointed the Jewish White Jesus and the Arab Mohammed.
This means it is scientifically impossible and illogical that the Jewish White Jesus or the Arab Mohammed can be anything to Black Americans simply because of the racial incompatibility!
What say you!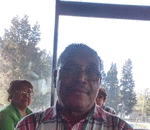 Posted By: Harry Watley
Sunday, August 19th 2018 at 9:54AM
You can also
click here to view all posts by this author...