an Arab man Mr. Farad Muhammad as their Savior!
The Nation of Islam (NOI) are just as stupid today as the rogue religious organization was 80 years ago led by the late ignorant Elijah Muhammad.
I say ignorant because the NOI is so stupid that they donít realize that any Savior to Black Americans from God must be a Black American from the very start and Mr. Master Farad Muhammad is not a Black American man!
The Arabian peopleís Savior Mustafa Mohammad was Arab and the first prophet of the Arabian people.
The Hebrew/Israelite/Jewish peopleís last Savior was Jesus of Nazareth and Jesus was Jewish.
The exact same set up we Black Americans must have e.g. our Savior must be a Black American.
If you are seeking an earnest relationship with the same God that anointed Mohammad and all the Jewish prophets it can only be done through Christ Harry who is Black Americaís first anointed prophet that will lead us Black Americans into sovereignty in a country of our own; from the northern borders of North Carolina into the Gulf of Mexico and from the middle of the Mississippi River into the Atlantic Ocean will become Black Americaís country!
Everyone that is not a Black American or a Native American Seminole Indian must sleep this territory, no questions asked or answered!
Minister Farrakhan and the Nation of Islam will turn to me if they want to be saved.
What say anyone!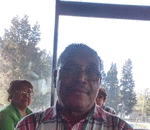 Posted By: Harry Watley
Friday, March 15th 2019 at 12:35AM
You can also
click here to view all posts by this author...