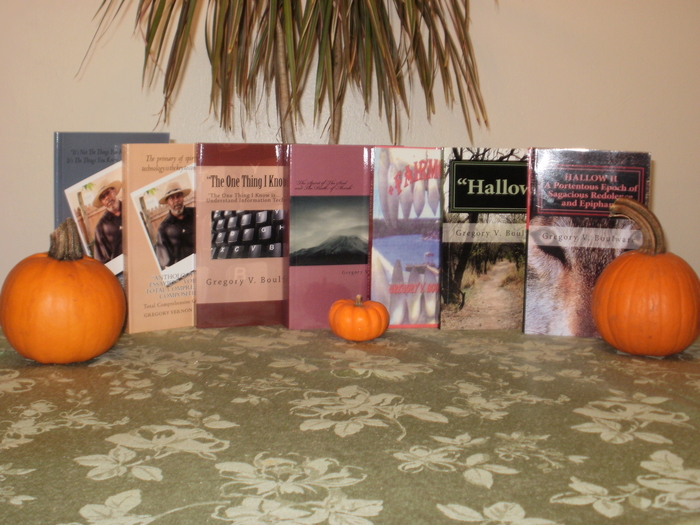 *A Re-post 8.27.18 - due to the demise of 'Black History & Black AuthorsConnect:
/*
'ESQUIRE'
~ "Appeasing An Appetite" ~
By
Gregory V. Boulware, Esq.
'A Servant' & 'A Gentleman'
https://boulwareenterprises.wordpress.com/...
~"Amazon"~
http://www.amazon.com/Gregory-V.-Boulware/...
"HallowI" and HallowII"
Hallow:
Inspiring or creating horror, loathing, aversion, etc., centered upon or depicting terrifying or macabre events; a horror movie. Such a feeling as a quality or condition – a strong aversion, abhorrence: to have a horror of emotional outbursts. Informal: something considered bad or tasteless…an overwhelming and painful feeling caused by something frightfully shocking, terrifying, or revolting, a shuddering fear; to shrink back from a mutilated corpse in horror. Anything that causes such a feeling; killing, looting, and other horrors of war…
~"A Sojourn Into Now and Then!"~
Hallow II:
Even a man who is pure of heart and says his prayers by night, may become a wolf when the 'Wolfsbane' blooms and the Autumn Moon is bright!" They say there is no sin in killing a beast, only in killing a man…but where does one begin and the other end – why is it the so-called educated do not acquire the good sense of knowing better?"
A Significant Era of Perceptive Aroma and Vision – "A Portentous Epoch of Sagacious Redolence and Epiphany!"
>
…A man called the other day.
We have been inundated by telephone calls by marketing agents over an over again on a daily basis. They have attempted to sell money (Loans), credit cards, education, insurance, social security opportunities, dishes, magazine subscriptions, automobiles, home security devices, hearing aids, etc. Placing our telephone number on the "Do Not Call List(s)" have not stopped these moguls from getting through with their annoying offerings – to which we, of course, were/are not interested. Has this happened to any of YOU? We have resolved to rely upon the "answering machine" in order to screen all calls. This individual marketer, in an attempt to get us to answer the phone, used a unique concept in his success. This guy said that he was "My Online Publicist" and he couldn't wait to talk to me…he couldn't wait to discuss my book, "Hallow II." My first question, without answering the phone, was…how in hell did he get my home telephone number? And why is it that he wanted to discuss only the one book as opposed to the other six – (the remaining two have yet to be published)?
Well, just in case the man is/was legit, I'm hopeful that he will call back or at least send me an email… Otherwise, he is simply one more caller who insists on selling me something (or attempting to collect something). I have to give him credit though, if he was some sort of collector or marketer, cudos to you for your imaginative and beguiling attempt to get us to the phone. However, should he be a reader or follower of my written works, I welcome the communication – if not, "Please Leave Your Name and Number and We'll Get Back To You As Soon As Possible!"
>
In Reiteration for your Edification:
…Someone asked my wife, "Is your husband a lawyer? I didn't know that you were married to a lawyer!"
Just in case many of you have not been paying attention…"Esquire" is not a title only assigned to the legal community. The definition or title of "Esquire" is applied to:
those who are deserving or earned of such a title or recognition…learned, accomplished, eruditely, prodigious, a polymath, and/or possibly motley, etc.
Esquire_11.29.15
Dictionary.com/Webster, Etc.:
"Applied to a commoner considered to have gained the social position of a gentleman."
~ An unofficial title of respect, having no precise significance, sometimes placed, especially in its abbreviated form. ~
>
…And yes, at my age (accomplishments and experiences), I do consider myself to be a "Gentleman" – "An Honorable Gentleman, Indeed!"
(ex.)
http://ezinearticles.com/expert/Gregory_V....
There are, according to my current knowledge, three persons who carry the name, "Gregory Boulware!" They are of course, myself, my son, and my grandson.
Gregory V. Boulware, Esq.
Gregory S. Boulware, Sr.
Gregory S. Boulware, Jr.
>
[es-kwahyuh r, e-skwahyuh r]
Spell Syllables
Examples Word Origin
noun
1.
(initial capital letter) an unofficial title of respect, having no precise significance, sometimes placed, especially in its abbreviated form, after a man's surname in formal written address: in the U.S., usually applied to lawyers, women as well as men; in Britain, applied to a commoner considered to have gained the social position of a gentleman.
Abbreviation: Esq.
2.
squire (def 2).
3.
a man belonging to the order of English gentry ranking next below a knight.
4.
Archaic. squire (def 1).
verb (used with object), esquired, esquiring.
5.
to raise to the rank of esquire.
6.
to address as "Esquire.".
7.
to escort or attend in public.
Origin of esquire Expand
late Middle English Middle FrenchLatin
1425-14751425-75; late Middle English esquier < Middle French escuier < Latin scutarius shield bearer, equivalent to scut (um) (see scutage ) + -arius -ary
Dictionary.com Unabridged
Based on the Random House Dictionary, © Random House, Inc. 2015.
Cite This Source
Examples from the Web for esquire Expand Contemporary Examples…
It pays to know what it is that one talks or speaks before passing conclusive comments and/or judgments…they should pick up a dictionary or at least check in out Online…
…Would you not agree?
So, I say to that person or persons unknown, being honorable and recognized for such does not exclude one from being an "Esquire," It is not truly reserved for those who consider themselves elite or exclusive or members of the legal community or the bar association.
Prima Facie:
"At first appearance; at first view, before investigation."
https://www.dictionary.com/browse/prima-fa...
https://search.yahoo.com/search?ei=UTF-8&f...
[Latin, On the first appearance.] A fact presumed to be true unless it is disproved.
In common parlance the term prima facie is used to describe the apparent nature of something upon initial observation. In legal practice the term generally is used to describe two things: the presentation of sufficient evidence by a civil claimant to support the legal claim (a prima facie case), or a piece of evidence itself (prima facie evidence).
For most civil claims, a plaintiff must present a prima facie case to avoid dismissal of the case or an unfavorable directed verdict. The plaintiff must produce enough evidence on all elements of the claim to support the claim and shift the burden of evidence production to the respondent. If the plaintiff fails to make a prima facie case, the respondent may move for dismissal or a favorable directed verdict without presenting any evidence to rebut whatever evidence the plaintiff has presented. This is because the burden of persuading a judge or jury always rests with the plaintiff.
https://legal-dictionary.thefreedictionary...
>>>
~ Hallow ~
"Amontillado," "The Bridge," "The Pendulum of Hades," "Thane of Cawdor," "Necklace," "The Foxy Grandpa," "The Awakening," "Amongst Us," "Dante's Walk," "Demons Throat," and more…
"All Hallows Night"
https://boulwareenterprises.wordpress.com/...
http://blackauthorsconnect.com/cgi-bin/blo...
"SHAMAN"
They were not aware of the trouble that was amiss. Emergency vehicles were parked at the spot where the body of Lindsey Irvin lay at the bottom of the twelve hundred ft. drop from the cliff of the Strawberry Mansion roadway and bridge surface.
"The Colored Man was chased and treed in the woods in or near the Robert Faddis Woods near Youngsburg. The Black Man tried to shoot himself in the head, but failed. They took the Black Man to the hospital were his injuries were treated. A gang of white men broke the window in the main hallway, corralled the police officer guarding him and dragged the Black Man from his sick bed to the Sarah Jane Newland Farm just to the right of the road and almost directly opposite the farmhouse. In a grass field about fifty feet from the road, they gathered dried Chestnut Rails and old fencing to build a fire. It took all of three minutes to get the fire up to a height of ten feet or more. They asked him if he had any last words…he didn't.
(To Appear In The Publication of "HALLOW III")
"The Sickening Smell of burning Flesh"
http://shamanretold.blogspot.com/
"Thane of Cawdor"
By
Gregory V. Boulware, Esq.
~11.15.11~
http://blackhistory.com/content/290622/tha...
Shakespeare – A Tale of Honor, Battle, Murder, and Deceit!
Story #4 Within The Pages of 'Hallow I'
The brief appearance of a trio of witches and then moves to a military camp, where the Scottish King Duncan hears the news that his generals, Macbeth and Banquo, have defeated two separate invading armies—one from Ireland, led by the rebel Macdonwald, and one from Norway. Following their pitched battle with these enemy forces, Macbeth and Banquo encounter the witches as they cross a moor. The witches prophesy that Macbeth will be made thane (a rank of Scottish nobility) of Cawdor and eventually King of Scotland. They also prophesy that Macbeth's companion, Banquo, will beget a line of Scottish kings, although Banquo will never be king himself. The witches vanish, and Macbeth and Banquo treat their prophecies skeptically until some of King Duncan's men come to thank the two generals for their victories in battle and to tell Macbeth that he has indeed been named thane of Cawdor. The previous thane betrayed Scotland by fighting for the Norwegians and Duncan has condemned him to death. Macbeth is intrigued by the possibility that the remainder of the witches' prophecy—that he will be crowned king—might be true, but he is uncertain what to expect.
http://www.sparknotes.com/shakespeare/macb...
https://en.wikipedia.org/wiki/Macbeth
http://www.openculture.com/2015/09/young-o...
>>>
The year of Our Lord is 1587.
Mantieth, Caithness, Angus, Lennox, and the True King of Scotland tell of revenge for the murders caused by MacBeth and his Lady.
In the evil dominated atmosphere, three witches, being bored conceived the notion to use someone to entertain them. Mischief was the notion; MacBeth came to be chosen. Along with his nag of a wife, the witches began put forth the notion of his greatness by way of death.
His wife plotted the murder of Duncan, King of Scotland. Lady MacBeth would do anything to gain the throne, even commit murder. MacBeth is also guilty. He wanted power over men. He stood by and allowed his wife to carry out her plot for ambitions sake. On the battlefield, he was great and victorious.
MacBeth, now being king, with the intention of keeping in that way, had Banquo murdered by assassins. Fleance, and his son, escaped. Macbeth hired assassins to murder them. He normally despised men hired for killing.
His evil demeanor had no bounds once he acquires the throne of Scotland. MacDuff, being the one to openly question MacBeth, is also targeted for murder. He poses a threat to the truth of Duncan's death.
MacDuff's family is murdered while in the care of MacBeth. Malcolm, a soldier, a brother to Donalbain, both sons to King Duncan, true heir to the throne is careful in trusting MacDuff. He fears MacDuff is loyal to MacBeth. It has been reported that the brothers were bribed and suspected of killing their father as being the reason for their flight; Donalbain to Ireland and Malcolm to England. After Duncan's death and funeral, Macbeth was crowned King of Scotland and Lady MacBeth as Queen. The coronation took place at the royal palace. Obviously, the party was unattended by Donalbain and Malcolm.
In attendance were attendants to the King and Queen, Lennox, Ross, and many noblemen. They were high lords of the realm as were many others who were in attendance to the banquet at 'Inverness Castle.' Several ghosts were also in attendance to the affair as well. Hectate, an elder of the witches, scolded the three for their deed of mischief without consulting her. She was not in agreement with their choosing MacBeth. She ordered them to make things right. They did as they were told.
They cast another spell and the four of them celebrated around a fired black cauldron of witches brew, chanting in unison, "Something Wicked This Way Comes!" MacBeth and his Lady were being haunted in their dreams, asleep and awake, constantly.
The King was hounded not only in his sleep, but while he was awake, drunk or sober. The major message in the haunting was a constant warning, "Beware MacBeth, Beware MacDuff!"
In England, Malcolm and MacDuff planned revenge against MacBeth.
He could have gained the throne thru his valor alone. Duncan, the King, was old and on his way out. I believe that he had more faith in MacBeth than his own two sons, Malcolm and Donalbain.
The act of Duncan's murder was heinous. Lady MacBeth not only poisoned him, but also stabbed him with the daggers of his bedroom guards. Not to mention, the dagger of the mind. Macbeth killed them both – innocent men.
MacDuff, another soldier of the king, is the first to ponder MacBeth's guilt in the king's murder. He later becomes nemesis to MacBeth. MacDuff suspects Lady MacBeth as well. Banquo was with MacBeth when the witches interviewed him; knowing of the prophecy, he immediately knows that MacBeth is responsible for the King's death. Banquo also fears for his life and the life of his son, Fleance.
The prophecy had come to light and MacBeth would probably kill him for being witness to the murderous deeds. MacBeth would kill his son for being prophesized to rule Scotland. MacBeth did not want the throne to belong to anyone but he and his bloodline.. His bloodline would never rule for the prophecy told of Banquo's descendents being the future rulers.
At the field near MacBeth's castle in Donsinance, Malcolm, MacDuff, and a soldier called Siward and Battle-men of England approached. They carried battle arms, flags, drums, and the branches from trees and shrubbery. From within the castle walls, in the distance, a woman screamed!
The report also entailed a trick to the eye. They believed that they saw the Forrest moving!
"There is movement in the wood!"
Suddenly, the tower guards spotted a showing of arms and war power. The battle bell rang! A Nobleman's Army, led by Mantieth, Caithness, Angus, Lennox, and the True King of Scotland. The revenge of the murders caused by MacBeth and his Lady, the spell cast by the coven of witches, came to pass with the battles end. Decapitation was MacBeth's end.
His Lady's fate was off the top of the keep's battlement bulwarks and walls.
Malcolm, the King of Scotland thought aloud as he viewed the impaled bodies on the battlefield; MacBeth's head was mounted atop the stake in the forefront.
"I wish that our missing friends were here, safe and sound."
>
~ "HELL HATH NO FURY LIKE A WOMAN SCORNED!" ~
~ "Demon's Throat" ~
"I remember this familiar feeling, for about the third time in three months; of falling – falling down. The falling only came to an end for one reason – maybe two. The point is…I was able to grab onto something in order to break my fall. The primary reason is coming to a complete and utter dead end stop – at the bottom of the stairway, which began at the second floor landing. It didn't necessarily matter to what position your body was in when this complete and utter stop completed the descent. Albeit, stair-steps and bottom of the stairway landings come into play, the stop is at the bottom of the stairs."
http://demonsthroathallow.blogspot.com/
Me and Walter had five kids, ya know."
(Read the Unabridged, Uncensored Version)
http://koobug.com/GregoryVB_Author?p2992
"When There's No More Room In Hell" …'The Dead Shall Walk The Earth!'
My name is Salestian Michaels. I'm currently employed by the 'Philadelphia Sunny Globe Newspaper Organization and International News Network.' I was born and raised in South Philly, the heart and soul of 'Mafiosi Life.' Angel Brondidi and Nick the Needle ran it all when they weren't at odds with one another.
I was there when Captain Willis Samuel and National Forestry Service Ranger Commander Gerald Glenn confronted and eradicated the monster beast in the park. I didn't like Glenn very much, although I admired him. He was damn good at what he did. It was his woman that I liked…loved and wanted.
http://nomoreroominhellwhen.blogspot.com/
http://blackauthorsconnect.com/cgi-bin/blo...
~ Hallow II ~
"The Rails, Some Hemp, and A Hanging," "Underfoot," "Howl of An Angel" – pts. One and Two: "The Loch of Satanus," "Bowery of the Crimson Froch and Flesh" pts. One through Three: "The Wedding Party" and "Isle Manhatten: The Changeling – Loup Garou," "The Catharsis Table," "When There's No More Room In Hell," "The Egyptian Book of The Dead," and a hell of a lot more…!
>
"HALLOW" the 'Kindle Edition!'
https://www.amazon.com/dp/B01MDRWT7P
and
In Paperback!
https://www.amazon.com/gp/product/14680034...
'Hallow I and II'
~The Kindle Edition~
https://www.amazon.com/s/ref=dp_byline_sr_...
A Concise Bibliog. of: Gregory V. Boulware has the admiration for many fine, noteworthy, and esteemed authors. Several of which include, Middleton A. Harris, Isaac Asimov, William Shakespeare, Alexander Dumas, Langston Hughes, Edgar Allen Poe, and a host of literary writers and authors. His written works and style of writing speak for his lifelong desire to become an author. He has spent the majority of his life as an affirmed and avid reader. He won the second place essay award while attending college. This did not sway his desire for pursuing and improving his writing skills. Gregory graduated from The Berean Institute College of Business and Technology. He also studied Management at Philadelphia Community College and classes at Temple University via The PASCEP Program and M. K. Enterprises. Mr. Boulware has spent thirty-five plus years in the Transportation Industry as a Tractor Trailer, Straight Truck, Bus Driver and Administrative Technician. Prior to that, he worked all over Philadelphia and the surrounding area in factories, warehouses, stores, and various restaurants and other service entities. He has been happily married to Virginia M. Boulware, R. N. for more than Forty-Plus years. This union has produced two successful Sons and four beautiful Grandchildren. His readers have described him as an erudite and a polymath. He was not always been regarded as such. Folks, who believed the contrary, only encouraged him to reach for higher goals. In this, his second book breeds the intent and interest for many more such contributions of varied genres. Mr. Boulware has not been on a mission to have the last laugh or the last word, but… He has, however, enjoyed having a most profound laugh and a word or two conveyed and noticed…at home and around the world.
~ HALLOW II ~
A Portentous Epoch of Sagacious Redolence and Epiphany: A Significant Era of Perceptive Aroma and Vision
Hallow II is a follow-up addition to Hallow in its collection of short stories filled with adventure, Science-Fiction, Horror, and thrills. Here's another masterpiece by this superlative writer with this latest addition to a collective assortment of goodies. Hallow II presents a wonderful collection of Horror, Thriller, Adventure, and Philosophical wonderlands of Mystical and Physiological Enlightenment. …A complete blend of fiction and non-fiction.
Coincidences, seemingly of a marvelous character, there are few persons who have not, on occasion, been startled. It also goes without saying; even the calmest of thinkers have experienced a vague thrilling half-credence in the supernatural genre.
Speaking of certain, albeit, limited, coincidences, understand that we, Mr. 'Eddie' Poe and I, the Editor / Publisher, choose to speak of this topic. In my own heart, I cannot speak of his; there dwells no faith in the praetor nature. In past and probably, future conversations, men will debate the issue of the original intentions of God's Laws. They may dispute that nature and its God are two. The latter creating the former can, at will, control and/or modify it. Would you not agree, my friend? The insanity of logic has, of course, assumed it is not that the Deity cannot modify his laws, the question is of will. Does man insult God with the imagination of a possible necessity for modification? Mr. Poe espouses the origin of these laws were fashioned to embrace all and every contingency which could lie in the future. All that one would need to do is to pay the strictest and closes attention with unwavering indulgences.
This topic is only referred to as coincidences. It was submitted for my review as 'Bowery of the Crimson Frock and Flesh – The Poe Report.'
http://boweryofthecrimsonfrockandflesh.blo...
More about the author
Visit Amazon's Gregory V. Boulware Page
Gregory V. Boulware
Follow this author on Amazon and Twitter!
Biography
"From blog to blurb," Mr. Boulware has come to produce, mitigate, and provide a myriad of postulating books, articles, and essays for public and private consumption. Simply referred to as 'erudite' by his many readers, fans, and critics, this sagacious author in his natural propensity, moves thought provoking subject material with well graced laxity and modulation over many networks, websites, and social media.
Visit BoulwareEnterprises.com and a host of Networks hosting this authors written works. View the material via, The Black History.com, Black AuthorsConnect.com, HBCU.com, HBCUCONNECT.com, Black In America.com, BlackWomenConnect.com, Chocolatpagesnetwork.com, Plus.Google.com, BookMarketingnetwork.com, GoodReads.com, LinkedIn.com, Blogger.com, Tumblr.com, KooBug.com, Pintrest.com, Academiaedu.com, BlackIsms.com, AuthorsDen.com, and many others!
Google his name and view the results therein!
View his contrite yet mind-visualizing publications…on the Internet and through his Books!
BoulwareEnterprises and CreateSpace Publications:
The writing project, for an upcoming book, chronicles the adventures, trials, and tribulations of Shakespeare's Black Conquering Usurper residing in the land of the whites. My journey brought me from the colleges and universities of the Philadelphia area of America to the wondrous and mystical land of Morocco and European Civilization. We, my beautiful assistant, 'Isabelle' and I; where swept away on a bus tour. The moors and hillsides of Ireland were beautifully green, brilliant, and vast. For this plot of earth called an island by men, would leave me to believe otherwise. We simply fell in love with this place. The rickety double-decker bus, upon which the tour proceeded, traveled over hill and dale to mystical ruins and places of dreamlike genres and imagination. Tales of the Arabian Knights, King Arturius/Arthur, and the likes of Lord William Wallace vividly came to mind. Visitors couldn't help revisiting the old books of fame and childhood bedtime stories.
…The weary rain soaked man stumbled upon the pathway to the door of the keep. He pounded upon the over-sized oaken doors with a weak and fumbled attempt. It was cold and dark. The heavy icy rain pounded down on the weary traveler to no end. He was sick. He needed shelter and warmth…now!
The castle, converted to a religious sanctuary or 'Keep,' if you will, sat ominously upon the spookiest hill in the area. It sat there looking at us, daring us to leave the sanctuary of the rattling, creaking, and cantankerous old bus. It beckoned as much as it warned to stay away from here. My curiosity would not leave me be. It kicked me, pulled at me, and slapped me. The site of this keep will never let me rest; it will never let me go. I needed to see inside. I needed to speak with its occupants.
I rang the bell for the driver to stop so that we could get a better, a closer look. It was just my excuse at attempting access to one of the excursion sites not listed on the tour itinerary. In fact it wasn't on any of the local maps or international ones either. It was as if the mysteriously opulent and black castle never existed.
http://howlofanangel.blogspot.com/
~ Are These Titles On Your Book Shelf? ~
If Not, You Don't Know What You've Been Missing! Knowledge, Wisdom,
Enlightenment, Passion, Humor, Spirituality, Inspiration, Logic, Power, Joy, Love, Mystery, Science, History, Religion, s*x, Fantasy, Mysticism, Travel, Exotic Encounters, Fiction, Non-Fiction, and Mind-Bending Excitement Await You Between The Pages Housing These Super Extolling, Lauded, Glorified, Proclaimed and Uplifting Pages of Prescriptive Prose!
Visit: BoulwareEnterprises.com and follow the easy connections from there!
Remember…
"It's Not The Things You Know, It's The Things You Know That Just Ain't So!"
https://www.amazon.com/HALLOW-Portentous-S...
~BoulwareEnterprises~
http://boulwareenterprises.com/-_A_Portent...
Kindle Publications/Editions:
https://www.amazon.com/s/ref=dp_byline_sr_...
…Til Next Time!
In The Name of Peace, Love, Justice, and Truth,
~ "SANKOFA" the "MAAFA" ~
'G'
"Amazon"
http://www.amazon.com/Gregory-V.-Boulware/...
*/
>
Posting List Links and Locations to Articles by Boulware
'The Platforms of BoulwareEnterprises/Publications'
~ 'The E-Store for Books by Gregory V. Boulware, Esq.' ~
http://boulwareenterprises.com/-_A_Portent...
http://thebookmarketingnetwork.com/profile...
New BCID: 823-13940945
http://www.bookcrossing.com/journal/139409...
New BCID: 823-13940945 – Hallow
/*
~BoulwareEnterprises~
http://www.BoulwareEnterprises.com
https://about.me/gregory_boulware
"Article Posting Sites"
https://www.blogger.com/profile/1091094619...
https://boulwareenterprises.wordpress.com/
http://www.linkedin.com/pub/gregory-boulwa...
https://www.goodreads.com/author/show/7237...
http://thebookmarketingnetwork.com/profile...
http://www.wattpad.com/user/GregLitideas
https://literarygreg10xsmenow.tumblr.com/
https://about.me/gregory_boulware
http://www.pinterest.com/writerauthor6bk/p...
http://www.bookcrossing.com/mybookshelf/GV...
https://www.facebook.com/profile.php?id=10...
http://ezinearticles.com/?expert_bio=Grego...
~The Connect Platform~
http://hbcu.com/cgi-bin/blog.cgi?id=641608
http://hbcuconnect.com/cgi-bin/blog.cgi?id...
http://blackwomenconnect.com/cgi-bin/blog....
http://blackinamerica.com/cgi-bin/blog.cgi...
http://chocolatepagesnetwork.com/cgi-bin/b...
http://escapeintotheword.connectplatform.c...
"Amazon"
http://www.amazon.com/Gregory-V.-Boulware/...
https://authorcentral.amazon.com/gp/profil...
http://www.authorsden.com/gregoryvboulware
And
"Twitter"
https://twitter.com/AuthorBoulwareG
https://twitter.com/hashtag/BoulwareBooks?...
https://twitter.com/AuthorBoulwareG/status...
'Virtuosity101.com'
http://virtuosity101.com/
http://virtuosity101.com/cgi-bin/blog.cgi?...
http://virtuosity101.com/content/288611/sa...
http://virtuosity101.com/content/288593/a-...
http://blackisms.com/education-2/
https://www.academia.edu/
https://independent.academia.edu/GregoryVB...
https://www.authorsden.com/visit/author.as...
ThePaper.Li.BoulwareDaily
http://paper.li/~/publisher/5445ebb6-59f5-...
*/
Just A Few Tags: …:-)
Paper.LiBoulwareDaily
http://paper.li/~/publisher/5445ebb6-59f5-...
https://twitter.com/hashtag/BoulwareBooks?...
http://www.phillytrib.com/
"I've learned that people will forget what you said, people will forget what you did, but people will never forget how you made them feel."- Maya Angelou (1928-)
Media:
#Esquire #Polymath #BlackAuthors #Boulware #BoulwareBooks #HBCU #BlackWritersMuseum #onWURD #12thTribe #BlackInAmerica #SNCC #SCLC #NAACP #COAR #JohnLewis #DrKing #MartinLutherKing #PhillyTribune #PhillyTrib #SojournerTruth #Sojourner #BlackHistory #History #HerStory #KnowledgeIsKing #BlackThen #P2P #3rdEye #CongressionalBlackCaucus #PaulRobeson #JamesBaldwin #BlackToLive #Nibbies #KDP #HealStorian #TheIndigenousPeoples #FightThePowerThatBe #LDF #IndependentBlackMedia #NavajoNationCouncil #NavajoCodeTalkers #NativeTeams #AIVMI #LifeStyle #TheDailyWeb #TheHerald #TheWashingtonPost #MindTV #Metro #Revolution #Democracy #TheAdministration #ThePowerStructure #Deeds #Heritage #Segregation #Demonstration #March #FreedomRiders #FreePress #FreedomRides #Priviledged #Resist #Revolt #HumanBeing #Sanction #Boycott #Underground #PhillyTribune #AmericanIndianVeteransMemorial #AIVMI
Literary:
#Books #TheReadingList #BookLovers #BookClub #BookZiny #TheBookShop #ByTheBook #BookMarketing #BookSeller #ReadWrite #AmericaReframed #Entrepreneur #WordStream #Ghosted #GhostWriter #Nibbies #TheBritishBookAwards #TheBritishBookIndustry #FredNeuman #Edited #NigelRoby #Hallow #HallowII #Fairmount #Bear #TheOneThingIKnow #SpiritOfTheSoul #Anthology #Enterprise #Essayist #Author #Writer #SmokeyTheBear #YogiBear #TheBearFacts #Berean #CCPedu #TempleU #CheyneyU #LincolnU #PennStateU #Grambling #Clemson #TheMedia #NJNews #NYNews #PhillyNews #LinkedIn #Chicago #EzineAuthors #EzineArticles #ReadersGazette #IAm #IAmAMan #ManyRiversPBS #BookSellerAssociation #BooksAreMyBag #BertramBooks #BonnierPublishing #FMcM #FirstryGroup #Gardners #HarbottleandLewis #HarperCollinsPublishers #IPG #IndependentPublishersGuild #Nielson #PublishersPublicityCircle #TheReadingAgency #ThePublishersAssociation #OG #TheAssociationofLearnedandProfessionalSocietyPublishers #Tesco #BritishBookAwards #Barnes&Noble #Books2Readers #KDP #BookHub #TheBookHub #DarkHumour #CrimeFiction #NewAppleBooks #TooFondOfBooks #PandorasBooks #WebsiteMag #IoT
Networks:
#Technology #ClickBait #CBC #WordPress #BlogSpot #Amazon #KDP #Tumblr #PinteRest #Serendipity #Universal #Ubiquitous #TheLearningKey #TheUltimateRadioNetwork #TheOrderOfThings #Software #DataSource #DataBase #ComputerWorld #Oracle #WebSiteMagazine #Wired #Networks #Networking #Nibbies #Algorithm #Syntax #IoT #RDBMS #SEO #CRM #CPU #SMO #SMM #iOS #MIS #IT #BI #ISDN #OSI #EMR #ANSII #Chip #PC #DynaSet #RAID #SSL #GUI #APP #Elipse #SIMS #Boolean #SMTP #SPI #DB #SMS #GUID #SNMP #SOA #SOX #OLAP #FAT #ASP #SaaS #Nano #Program #EdTech #WebsiteMag
Share this:
PinterestTwitterLinkedInTumblrMore
Related
"Hallow"
In "Technology - ITandBI"
~ 'A Time Of Hallow Too' ~
In "Adventure"
"CAN ONE IMAGINE?"
In "Adventure"
Admin:
Tags: #BlackAuthors #Boulware #BoulwareBooks #HBCU #BlackWritersMuseum #onWURD #12thTribe #BlackInAmerica #SNCC #SCLC #NAACP #COAR #JohnLewis #DrKing #MartinLutherKing #PhillyTribune #PhillyTrib #SojournerT, #Esquire #PolymathComments RSS feed
>
~ "USURPER" – 'The Truncated Miscegenation Of Lord Othello, Venetian Warlord' ~
Serving as Ambassador to Queen Elizabeth I in or about our time there or about 1600, His reputation has grown from hemisphere to next. The Roman Hierarchy wanted him conquered, to bow down to them as servant to be called.
Judaism, Christianity, and Islam evolved in the region known as the Middle East, which includes some of Southwest Asia, and parts of North Africa. In Africa itself, Christianity and Islam are the main faiths practiced but African traditional religions still thrive too, with ancestor veneration, magic, and witchcraft playing their part. The balance of those elements may be specific to particular ethnic groups as traditions vary from place to place.
Now close thine eyes and with a greedy ear, do pay close attention to the testimony put forth for all to bear witness; to the scents, fragrances, and mental depictions of this tale and of faraway places.
I remember back, yes, I, "Ali El-Saad Albushkin," Moroccan Soldier, Sergeant At Arms, Artillery Man, and witness to a travesty and a tragedy…
"O, now and forever, farewell the Tranquil Mind! Farewell Content! Farewell the Plumed Troop and the Big Wars that make ambition virtue! O' Farewell! Farewell the Neighing Steed and the shrill trump, the Spirit-Stirring Drum, the Ear-Piercing Fife, The Royal Banner and all quality, Pride, Pomp, and Circumstance of Glorious War!
And, O' you mortal engines, whose rude throats the immoral Jove's dread clamors counterfeit, Farewell!
~ Othello's Occupation Gone!" ~
My Lord Othello was a "Moor." He was descended from 'Arabic and Berber' Blood. Lord Othello was a Great and Mighty General who delighted in the glory of battle. Somehow, along the way, the general came to believe that his wife had been unfaithful to him. At that point, nothing that he once valued seemed important to him.
The lovely and wronged 'Desdemona' was most cherished and beloved. She was the daughter of a Venetian Senator. Desdemona, on the night of her death, confided in talks with her maid, her thoughts going back to the days before she was married:
https://www.academia.edu/36598870/_USURPER...
https://independent.academia.edu/GregoryVB...
>
View This Author: "Reading Boulware!"
"About Me?"
https://about.me/gregory_boulware
~BoulwareEnterprises~
http://www.BoulwareEnterprises.com
"A Portentous Epoch of Sagacious Redolence and Epiphany?" – "A Significant Era of Perceptive Aroma and Vision!"
~ HALLOW II ~
« ~ "Nuclei Sarcoma, The Evil of Cancer" ~~ "Fairmount" – 'Willis Samuel Investigations Pt. 7': ~ "Loose Ends!" ~ »
Author Gregory V. Boulware
Philadelphia
gvb1210me@yahoo.com
Anytime...
https://www.goodreads.com/user/show/233672...
"We The Matrix"
About "Gregory V. Boulware, Esq."
"COBOL and The SSA"
"The Legal System and Technology in The 21st Century"
You need to enter your numeric user ID for the Goodreads Widget to work correctly. Full instructions.
Motiff(s): Wisdom, Teaching and Learning
Adventure Education and Learning Enlightenment History Horror
http://www.BoulwareEnterprises.wordpress.c...
Income and Career Inspiration Justice and Truth Learning Mystery Religion Science Fiction Self Improvement Teaching Technology Technology - ITandBI Thriller
Pages
"We The Matrix"
About "Gregory V. Boulware, Esq."
"COBOL and The SSA"
"The Legal System and Technology in The 21st Century"
You need to enter your numeric user ID for the Goodreads Widget to work correctly. Full instructions.
Blogroll
Discuss
Get Inspired
Get Polling
Get Support
Learn WordPress.com
WordPress Planet
WordPress.com News
Gregory V. Boulware
RSS Feed RSS - Posts
RSS Feed RSS - Comments
Follow me on Twitter
My Tweets
Powered by Google TranslateTranslate
You need to pick a user or enter an email address in your Gravatar Widget settings.
In Peace...
"G"
~ "Esquire" – 'Appeasing An Appetite' ~
http://blackinamerica.com/content/350307/e...
'A Servant & A Gentleman'
*/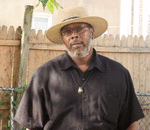 Posted By: Gregory V. Boulware, Esq.
Monday, August 26th 2019 at 12:28PM
You can also
click here to view all posts by this author...