To give insight you must first have a rock-solid idea of what salvation looks like for the Black American race.
Because I am Black America's first anointed prophet I am the only one that can say what salvation looks like for the Black American race. God said to me salvation for the Black American race is a country of our own where we can food, clothe and shelter from the land.
Neither Dr. King nor Elijah Muhammad led the Black American race into SALVATION since Black America is not in our own country. They failed because they weren't the one.
Clearly, the opportunity still exists for one to come forth and lead the Black American race into our own country/SALVATION!
Don't be stupid like Mr. Ron. Here is what Mr. Ron said.
"Harry did you see that photo at the top of this blog? God was with Dr.Martin Luther King Jr. for this to happen, that day of the "I Have A Dream" speech?"
Mr. Ron thinks the crowd size matters. It is God that matters! He criticizes how many hits my blogs gets.
God gave me divine knowledge, wisdom and understanding that wasn't given to Dr. King and Elijah Muhammad otherwise they would have known the since prophets are racially different Dr. King would not have the Jewish White Jesus and Elijah would not have the Arab Mohammed they would have had a Black American prophet as I have.
Christ Harry!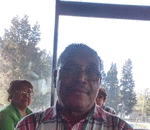 Posted By: Harry Watley
Thursday, January 23rd 2020 at 5:11AM
You can also
click here to view all posts by this author...