The bible says: And he (YAHWEH) made from one man every nation of mankind to live on all the face of the earth, having determined allotted periods and the boundaries of their dwelling place, Acts 17:26
This is the White manís opinion for White people only!
Here is what I Christ Harry say to my Black American people that includes you Mr. Ron! What do you see? Mr. Ron donít you see Chinese people in China? Donít you see Egyptians in Egypt?
YAHWEH is wrong and contridicing himself to say that every nation of mankind was made from one man when you Mr. Ron see differently that mankind is racially diverse and each begets their own STUPID!
Then Acts 17:26 go on to confirm what I said that God created each race in their own country when it say having boundaries of their dwelling place. Boundaries and dwelling place is speaking of their own country STUPID.
You quota the White manís bible, but canít interpret it because God bless me with the interpretation and not you STUPID!
Christ Harry!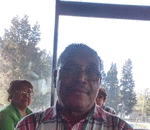 Posted By: Harry Watley
Sunday, April 5th 2020 at 3:17PM
You can also
click here to view all posts by this author...